19 Feb 2018 - 21 Feb 2018
Gaylord Opryland Resort & Convention Center Nashville, TN
WHERE PLASTICS RECYCLING MOVES FORWARD
Plastics Recycling 2018 is the focal point for the increasingly complex and international plastics recycling industry. The event, now in its 13th year, brings together plastics reclaimers, equipment manufacturers, brand owners, brokers, government officials and leading sustainability voices from around the globe to deepen connections and push the sector forward. Don't miss out on the industry event of the year.
The 2018 conference will offer presentations, panel discussions and Q&As featuring leading industry executives, relaimers and associations. The exhibit hall is expected to include more than 225 booths. The 2017 conference, held March in New Orleans, attracted nearly 1700 attendees from 40 countries and nearly 200 exhibitors from all sectors of the plastics recycling industry.
Take advantage of the opportunity to meet new faces, close deals and hear the information you need to know to keep your business ahead of the rest.
WHY YOU SHOULD ATTEND PLASTICS RECYCLING 2018
Learn how to take advantage of the current market to maintain and grow your business from the leading experts in the field of plastics recovery and utilization. Speakers will present extensive and detailed industry assessments, including analyses of trends in the U.S. and Canada, plastics collection issues, recycling market factors, and legislative and policy considerations.
Connect with over 200 companies in the industry showcasing their products and services in the exhibit hall. Exhibiting companies include, but will not be limited to, collectors and reclaimers, buyers and brokers, equipment producers, waste haulers and industry trade associations.
Network with clients, prospective partners, colleagues, vendors and industry leaders all in one location. Meeting everyone in one venue will save you precious time and travel expense.
SHOWCASE YOUR PRODUCTS AND SERVICES
The conference offers an array of sponsorship, exhibiting and advertising options that provide your organization with a cost-effective way to promote your products and services, establish your brand, build new business relationships and secure your position as a leader in the industry. It is the perfect opportunity to reach decision makers in the industry. Secure your sponsorship and/or booth space by December 15, 2017, to be included in the booth selection process that will start January, 2018. Sponsor and exhibitor contracts must be received by January 1, 2018 to be included in the conference program.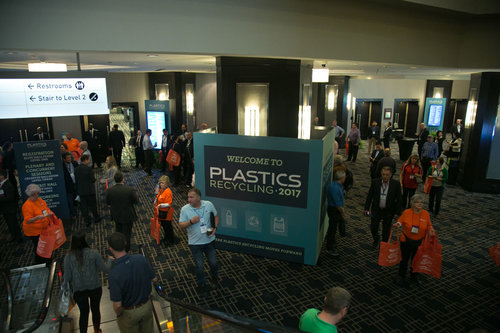 URL : http://www.plasticsrecycling.com/