15 Feb 2018 - 15 Feb 2018
webinar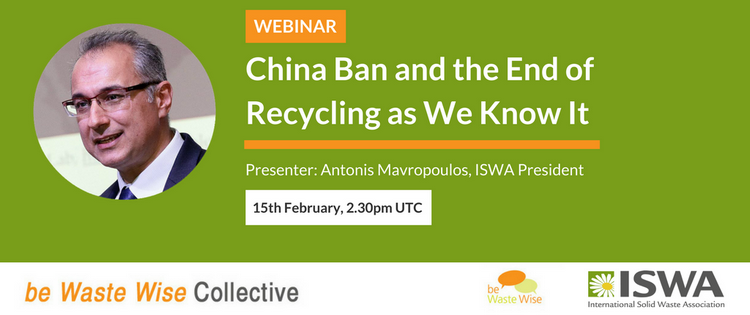 Join Antonis Mavropoulos, President of ISWA, on the 15th of February at 2.30pm UTC to hear his opinion about China Ban and what it means for the waste management world.
The webinar will open with a short interview, followed by a presentation from the President of ISWA on the subject. Viewers are invited to a Q&A session at the end of the webinar.
To register for this free webinar, visit be Waste Wise registration page here.
For inquiries regarding be Waste Wise platform, please contact:
Ranjith Annepu, Co-Founder at be Waste Wise - ranjithannepu(at)gmail.com
This event is part of ISWA and be Waste Wise strategic partnership to create and broadcast a series of online trainings which will address today's most pressing global waste challenges.Read more about the partnership here.
About be Waste Wise
be Waste Wise is a non-profit organization addressing the need for knowledge dissemination in waste management by bringing the best minds in the world together to build a global waste management community. be Waste Wise provides educational resources, direct access to experts and networking for free and builds momentum around the global challenge of waste. https://wastewise.be
URL : https://wastewise.be/webinars/china-ban-recycling-antonis-mavropoulos-iswa/#.WoP_XKhubIU