27 Feb 2018 - 01 Mar 2018
Chattanooga Marriott Downtown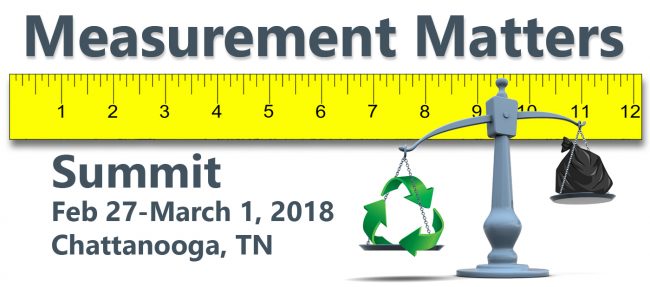 Expanding the Discussion
To manage effectively our resources, efforts, and outcomes; solid waste managers and industry leaders need to speak the same language about the same materials. The Measurement Matters Summit is convening in Downtown Chattanooga in the Marriott Event Center. It will bring the top leaders and professionals in solid waste management, trade organizations, and industry to break new ground in understanding and defining measurement in materials management.
Who Should Attend?
Measurement Matters is your chance to network with clients, build regional partnerships, talk with colleagues, and industry leaders all in one location. Save travel costs and time by meeting with your contacts in one location.
National and State Program Managers
Local Government Solid Waste and Public Works Managers
Trade Organizations
Professional Organizations
End-users of recovered materials
Scrap buyers and brokers
Recycling business managers
Be a Part of this National Collaboration
Meet with industries and professional organizations.Connect with hundreds of professionals from industries that have interest in measurement.
State professionals that provide oversight to materials management systems in their states should not miss this opportunity to provide input and direction to this national effort.
Discuss material data capture, analysis, and how to use it to reform, improve, and change public policy. As professionals, gain understanding on the essentials of emerging technologies in measurement. Learn how to protect your program from loss of funding using data.
State professionals can also:
Learn new reporting strategies
Network with other state program managers
Join colleagues in defining a consistent methodology and definition that allows each state's data to benchmark seamlessly with others. This benefit will strengthen state's programs and help support or justify new directions.
Day 1 – State Data Collection Discussion
Examples of how participating states improved waste and recycling programs through better metrics.
Break through barriers to reporting within the State Measurement Program (SMP) system and measuring program's performance.
Enhance the quality of the currently reported data, demonstrate power and value of the SMP system and what non-participants are missing.
Present the business case for local governments to invest in local SMM initiatives.
Day 2 – Engaging Improvement
Identify new metrics for success.
Harmonizing a System of Measurement: A Look at set aside and capture rates, characterization studies, recycling and diversion rates, waste sorts, economic impact studies, labeling, and many more!
Incorporate Community, Industry & Material Recovery Facility essentials for better materials management.
Day 3 – Building an action plan and timetable.