10 Apr 2018 - 11 Apr 2018
Hyatt Regency Sacramento 1209 L Street, Sacramento, CA, 95814 Phone: 916-443-1234
A Path to Success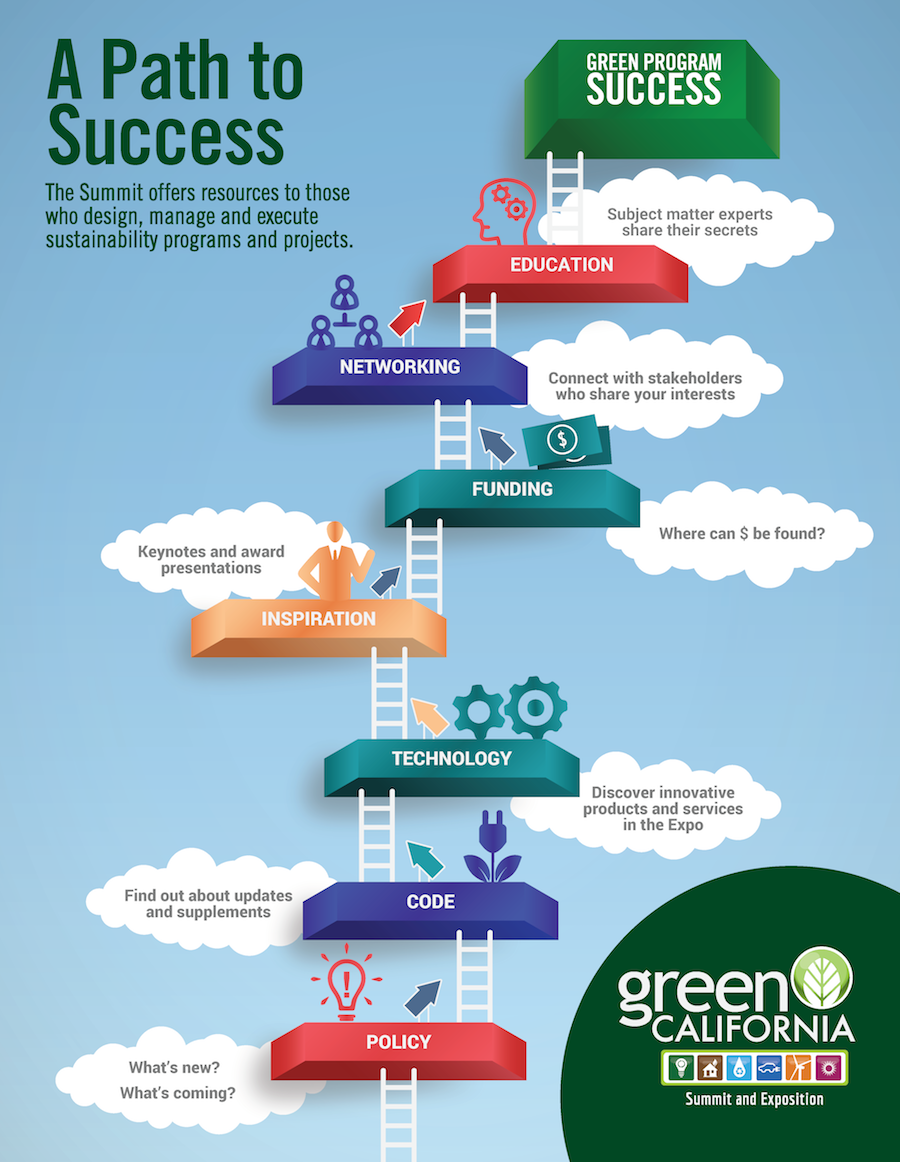 "We have a cap-and-trade system, which is a very efficient way to reducing greenhouse gases. We have a zero-emission vehicle mandate. We have efficiency standards for our buildings, for our appliances. California is showing that dealing with climate is good for the economy — not bad. It's a culture that's on the move — not pulling up the drawbridge out of fear and economic insecurity." – California Governor Jerry Brown
Greening the Golden State

As a result of its legislative and financial commitment to emission reduction and environmental stewardship, the Golden State has emerged as a national and international leader in sustainable policy, practice and technology. The annual Green California Summit was established eleven years ago to support these efforts and to provide information, education and resources to the public and private sector professionals who create, manage and execute green projects and programs.
The 2018 Summit comes to the Sacramento Convention Center on April 9-10, at a time when changing priorities at the federal level have heightened the importance of California's efforts. The Summit offers an unique opportunity for stakeholders to connect, exchange ideas and attend education sessions that highlight best practices and effective strategies.
The 21st century has been called the "century of the environment." Governments -and individual citizens – can no longer assume that social challenges such as pollution, dwindling natural resources and climate change can be set aside for future generations.
Through policy, research, education, incentives and forward-looking relationships with industry, government can play a central role in building a green future, community by community.
The prospects for success have never been greater. A dawning era of creativity and innovation in "green technology" (also known as "clean technology") is bringing the promise of a healthier planet – as well as the prospect of growing businesses that can sustain its health. The excitement building around this sector is reminiscent of the early years of the information technology revolution.
Green Technology is a non-profit initiative designed to inform government efforts toward sustainability, providing a forum in which government officials can communicate with those in the private sector who are developing and distributing green technologies.
With headquarters in California, Green Technology is ideally situated to stay on the leading edge. California, with the world's sixth-largest economy, is setting the standard for state support for green technologies.
With mandates for green building, renewable energy and "environmentally preferable" purchasing, California has made an unequaled commitment to a green future.
Call us at 626.577.5700.
Green Technology
2400 N. Lincoln Avenue
Altadena, CA 91001