27 Apr 2017 - 28 Apr 2017
India Habitat Centre, New Delhi.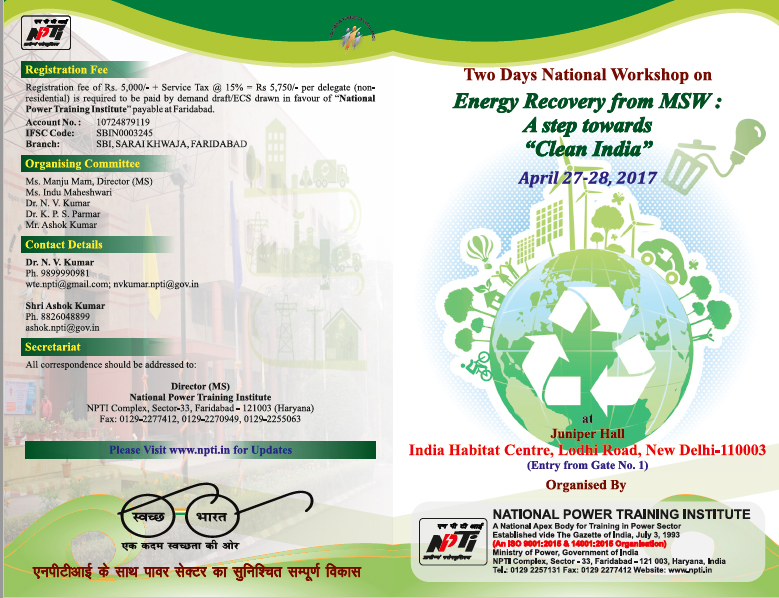 Dear Sir
National Power Training Institute (NPTI) an ISO 9001 & ISO 14001 organization under Ministry of Power, Govt. of India, is a National Apex body for Training and HRD in Power Sector with its Corporate Office at Faridabad. NPTI is the world's leading integrated power training institute who is going to organize 2 Days National Workshop from 27 to 28 April 2017 on Energy Recovery from MSW: a step towards "Clean India" at India Habitat Centre, New Delhi.
Municipal Bodies, Regulatory bodies, State and Central Pollution Control Boards, Policy Makers, Investors, Consultants, Technology Suppliers, Researchers & Academicians etc. are expected participants for the workshop. The workshop will provide unique business opportunity between various stakeholders in the field of waste management including waste to energy.
Kindly requesting you to nominate few personnel from your organisation for attending the program.
The brochure is attached herewith for details.
Thanking You
Yours faithfully
Ashok Kumar
Asstt. Director
National Power Training Institute, Sector-33, Faridabad
Ph.8826048899
PDF