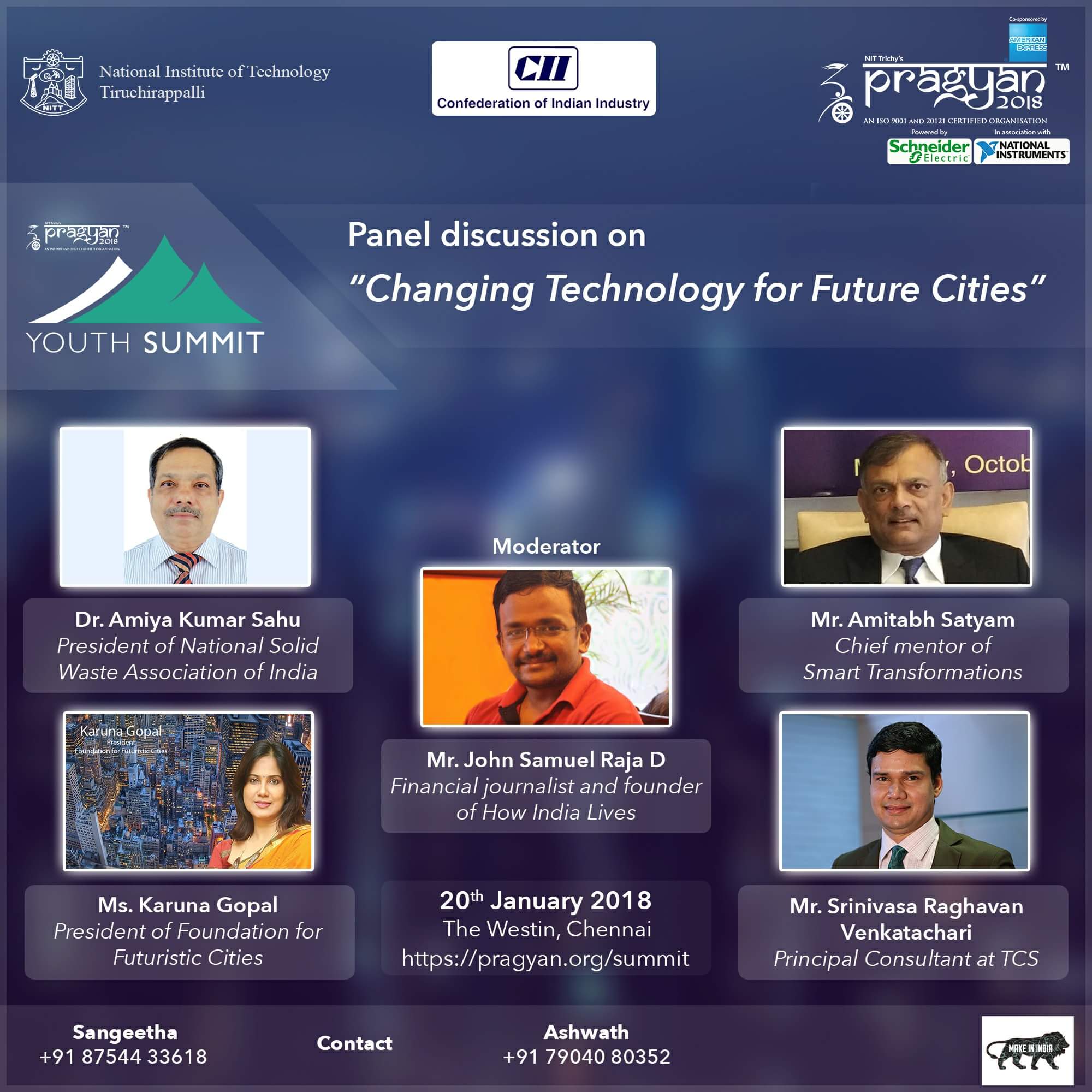 PRAGYAN YOUTH SUMMIT 2018
India, one of the oldest civilisations, has some of the largest cities in the world,with sizes exceeding that of countries. Our cities are rapidly growing - becoming more populous and city limits increasing.
Most of our existing cities have grown with little to no plan. Over the years,cities have adapted to the needs of the people. But at these rapid growth rates,have the changes been able to keep up?
Cities today face some critical challenges that severely impact the quality of life of people and the health of the city itself. Problems such as congestion in both housing and traffic, pollution, the strain on Energy and Utilities and Safety Services, to name a few.
Cities face a loss in productivity due to the negative impact on citizen health and happiness. The hour you spent in commute, breathing in smoke could well have been spent with friends and family. India is a powerhouse with 1.3 billion people and the fastest growing economy in the world; our problems will only grow bigger with time and it's time to find innovative solutions.
The Indian Government's Smart Cities Mission, with its focus on sustainable and inclusive development, is a novel initiative to improve core infrastructure and give a decent quality of life to its citizens, a clean and sustainable environment and application of 'Smart' Solutions.
With the weight of Information and Communications Technology at hand, we could well solve our problems and simultaneously improve upon our environmental and economic targets. Engineering solutions involving Artificial Intelligence , Internet of Things and other associated technology offer us with means to optimize city operations and services.
The topic of the panel discussion for the 2018 edition of Pragyan Youth Summit is "Changing Technology for Future Cities".
Smart solutions to combat these problems that our cities face are a dire need of the hour. With the looming threat of climate change and urban population growth, the use of technology, information and data would inject new life into many of our hometowns.
PRAGYAN