02 Dec 2016 - 04 Dec 2016
Mahatma Mandir, Gandhinagar, Gujarat, India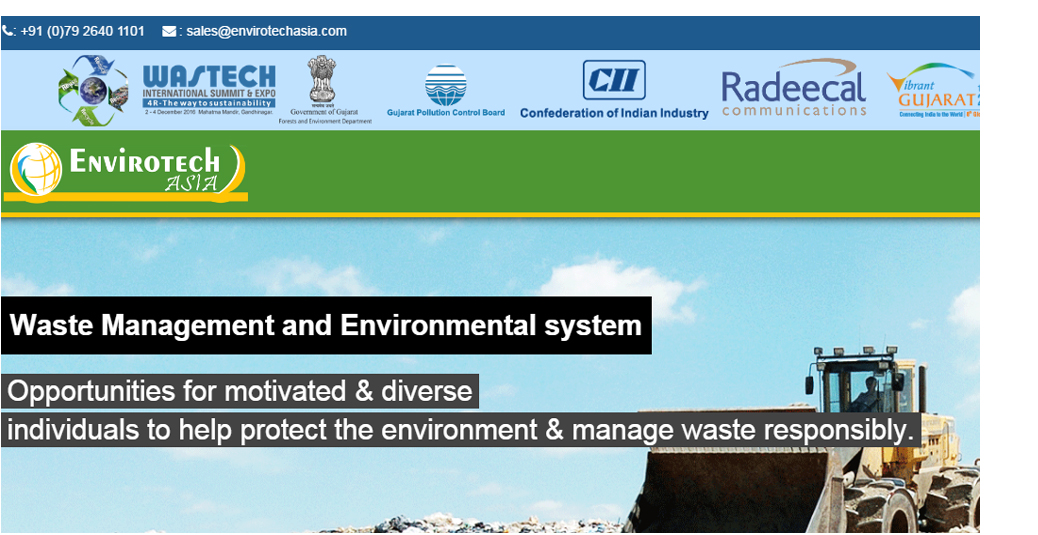 ABOUT EVENT
Gujarat Pollution Control Board(GPCB) and Confederation of Indian Industry (CII) alongwith KPMG as the Knowledge Partner is organizing the second edition of "Wastech International Summit and Expo" from 2nd - 4th December, 2016 at Mahatma Mandir, Gandhinagar as a pre-summit event for Vibrant Gujarat Global Summit 2017 to promote the sustainable development of the state through the concept of 4R's principle for Waste Management.
A 'Zero Waste' event
In compliance to the Hon'ble Prime Minister's 'Swachh Bharat' campaign, Wastech 2016 will be a 'Zero Waste' event. Different forms of waste generated during the event will be collected and recycled.
2-day International Summit
Technical presentation from world renowned subject matter experts
Networking opportunities and setting up B2B/B2G meeting through networking platform.
Opportunities to impact knowledge and technological advancements in MSW sewage treatment.
CONTACT US
For Summit and Sponsorship
Ms Deepa Sharma
Deputy Director
Confederation of Indian Industry
CII House, Gulbai Tekra Road,Near Panchvati,Ahmedabad - 380006
079-40279933
079-40279999
deepa.sharma@cii.in
For Exhibition
Mr Sanyal Desai
CEO, Radeecal Communications
+91(0)79-26401101/ 02/ 03
+91 99740 09653
sales@envirotechasia.com
RADEECAL COMMUNICATIONS,402,4th Floor, "Optionz" Complex, Opp. Nest Hotel, off C.G. Road, Navrangpura,
Ahmedabad- 380009.
PDF