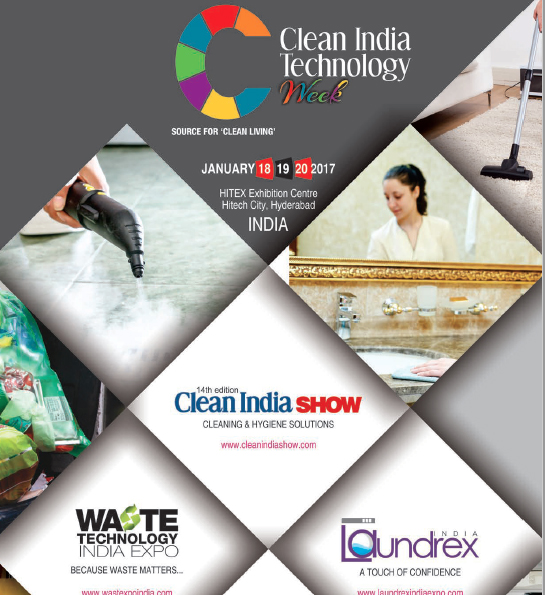 ABOUT CLEAN INDIA TECHNOLOGY WEEK
The much-awaited Clean India Technology Week 2017 (CTW 2017), Asia's leading networking & business platform, is all-set from January 18th to 20th, 2017 at the HITEX Exhibition Centre, Hitec City, Hyderabad. The three-day show will have four concurrent shows – 14th edition of Clean India Show and 2nd edition of Laundrex India, Waste Technology India Expo and Car Care Expo.
The fastest growing economy in the world, India is now the much sought-after market, especially for all those in the Cleaning Business, be it for industrial, commercial or institutional cleaning. CTW 2017 is the ideal destination to feel the pulse of vibrant India, make inroads into this market and meet suitable partners for tie-ups, franchising & distributorship, manufacturing and JVs.
The Indian Government has introduced favourable schemes/provisions for International companies to enter the country and establish themselves. Make in India, Start Up India, Single Window Clearance, Merchandise Exports from India, Special Economic Zones, Invest India, Clean India and others.
With more than 5,000 MNCs already operating in India — right from Google, Apple, Amazon to Uber, Suzuki – India is turning into a hub for international companies to enhance business in this fast-growing economy.
EXHIBITOR TESTIMONIALS
The Clean India Pulire show in Mumbai was definitely the best of the shows that this industry has witnessed over the past four years. CIP along with the Clean India Shows can enhance awareness on cleaning and sanitation within the country which will not only impact the health of the people and the environment but also improve the appearance of facilities and workplaces, making them safe to work in.
– Abhay Desai
Director, Marketing, Diversey India, India VISITOR TESTIMONIALS
"Even though our in-house housekeeping team was vacuuming the shopfloor regularly, it did not meet the cleaning specifications of auditors. Hence, we resorted to periodic stripping of the floor. Instead of spending money on repeated stripping, we are going in for one scrubber-drier machine to begin with and soon will add more machines to clean the over one lakh sqft area.
– K Sainath, Senior Manager
CONTACT US
Visitor Enquiries
Nikhil Shetty
Email: nikhil@visgroup.in
Telephone: +91-22-6120 4169
Prashant More
Email: prashant@virtualinfo.in
Telephone: +91-22-6120 4158
Exhibition & Sponsorship
Manjulatha Bilbith
Email: manju@virtualinfo.in
Mobile: +91-9987277766
Telephone: +91-22-6120 4127
Virtual Info Systems Pvt Ltd
Corporate Office :
231, Mastermind-1, Royal Palms,
Mayur Nagar, Aarey Milk Colony,
Goregaon (E), Mumbai – 400 065,
Maharashtra, INDIA.
Telephone: +91 22 6120 4111
Fax: +91 22 2879 4739

Url : http://www.cleanindiajournal.com/clean-india-technology-week-2016-concludes-on-a-high-note/
PDF